SRI SITARAMA KALYANAM_LORD SRI RAMA MY COLLECTIONS
01 Hanuman Chalisa - Lyric, Music, Singer_ M S Rama Rao.mp3
02 Meluko Sri Rama - S P Balasubramanyam, Music_ K V Mahadev.mp3
03 Naa Dehame Nee Devalam - P Susheela, Music_ K V Mahadevan.mp3
04 Raayinaina Kaakapothini - P Susheela, Music_ K V Mahadeva.mp3
05 Yemayya O Ramayya - S P Balasubramanyam, Music_ K V Mahad.mp3
06 Raama Chandrudithadu - P Susheela, Music_ K V Mahadevan, .mp3
07 Jaya Jaya Rama - S P Balasubramanyam, Music_ K V Mahadeva.mp3
08 Rama Dayaapara Seema - P Susheela, Music_ K V Mahadevan, .mp3
09 Bhale Vaadivi Sri Rama - S P Balasubramanyam, Music_ K V .mp3
10 Saranu Vededa - P Susheela, Music_ K V Mahadevan, Lyric_ .mp3
11 Ramudu Lokaabhiraamudu - S P Balasubramanyam, Music_ K V .mp3
MEDIA FIRE FOLDER LINK URL:
http://www.mediafire.com/?9ozvt76wi1k6w
4SHARED FOLDER LINK URL:
http://www.4shared.com/dir/0C3DYqTm/Bhadrachala_Ramadasu_Keerthana.html
SRI RAMA GANA LAHARI
http://www.mediafire.com/?zgmwu1z8b534o
=====================================================================================
2 yentati punyamo.mp3
3 vanchana seyaka.mp3
4 adugu daati kaadalaniyanu.mp3
5 yeda nunado.mp3
6 tapuulu yerunga leka.mp3
7 inni kalgi ne vurkundune.mp3
8 nammina vaarini.mp3
9 raa ra na venna mudda.mp3
Balamurali krisha - raa ra na venna mudda.mp3
balamurali krishna - adugu daati kaadalaniyanu.mp3
balamurali krishna - inni kalgi ne vurkundune.mp3
Balamurali krishna - nammina vaarini.mp3
Balamurali krishna - tapuulu yerunga leka.mp3
balamurali krishna - vanchana seyaka.mp3
balamurali krishna - yeda nunado.mp3
balamurali krishna - yentati punyamo.mp3
Idigobhadradri.mp3
Ikshwakula.mp3
Nanubrova.mp3
Pahiramaprabho.mp3
Palukebangaramayena.mp3
Ramachandra.mp3
Ramachandraya.mp3
Ramachandrulu.mp3
Takkuvemimanaku.mp3
Tarakamantramu.mp3
(Unknown) - Krishna Gopala krishna.mp3
(Unknown) - rama vishala.mp3
(Unknown) - ramabhadra raraa.mp3
Dasaradha Rama.mp3
jandhyala - Introduction.mp3
Krishna Gopala krishna.mp3
SPB - Dasaradhi.mp3
SPB - Janaki Ramana.mp3
SPB - Raskshinchu Doravaani.mp3
SPB - tappulani.mp3
unknown artist - Janaka Tanaya.mp3
Dinamesudinamu.mp3
Garudagamanarara.mp3
Ninnuponichedana.mp3
Oh!rama nee namamento.mp3
Pahimamsrirama.mp3
Rakshinchudeenunirama.mp3
Ramaneechenemikadura.mp3
Ramunivaramu.mp3
Seetaramaswamy.mp3
Yemirarama.mp3
sailaja - ee vela nanu brovara krishnayya.mp3
sailaja - palayamam sree rukmini nayaka.mp3
sailaja - rama ra raa bhadrachala rama.mp3
sailaja - saklendriyamulara.mp3
SPB - Garuda Gamana ra raa.mp3
SPB - Introduction-SPB.mp3
SPB - itula chetuvataraa.mp3
SPB - Nee Divya Charanamule.mp3
SPB - vande raghu rama.mp3
SPB,Sailaja - deena dayalo.mp3
Bhadrachala Ramadasu Keerthanalu
_____________________________________________________________________________________
http://www.4shared.com/file/128348584/cd8b8d32/SRIRAMARAKSHASTOTRAM.html
sriramarakshastotram
ysreddy_devotional(yahoo) mediafire link:
http://www.mediafire.com/?0t92f0wb91g18
Bhadra Chala Narasimha Dasu Compositions on Sri Rama-Dr Balamuralikrishna
This is a rare recording of Dr Balamuralikrishna .
Name of Album is Bhadradri Seeta Rama Prabhata Seva
About Bhadra Chala Narasimha dasu:
It is said that two men please God——he who serves Him with all his heart because he knows Him, and the other is he who seeks Him with all his heart because he knows Him not. Tumu Narasimha Dasu (1790-1833) belongs to the first category as he was imbued with piety and devotion to Lord Rama and always carried the Lord in his heart and soul. Rama was the object of his yearning, the goal of his actions, the principle of his affections and the governing power of his whole soul. He was always immersed in prayer as he believed that prayer, if not the very gate of heaven, was the key to let him into its holiness and beatitude!
Tumu Narasimha Dasu was a great saint-musician-composer. He composed many songs (Kritis) extolling the glory of Bhadradri Rama and attained salvation, thus showing a way for others to cross the hell of mundane life and attain the Bliss Eternal. Like Bhakta Ramadasu, Narasimha Dasu (who is believed to be the reincarnation of the former) strained his every nerve to develop the Bhadradri (Bhadrachala) temple and enhance its sanctity. He travelled across the Indian subcontinent, visiting ever so many pilgrim centers spreading the Bhakti cult among the people. His simple living and high thinking and his principles of human welfare are exemplary. He was a humanitarian to the core.
Born as the son of a great Sanskrit scholar Tumu Appayya Dikshit and a pious lady Venkamamba in Guntur town in the South Indian State of Andhra Pradesh, Narasimha Dasu was a precocious boy. The religious fervour of the period made a tremendous impact on his sensitive imagination. Narasimha Dasu belongs to the eminent tradition of saint-poet-musicians like Annamayya, Bhakta Ramadasu, Kshetrayya, and Tyagaraju. He was a contemporary of Tyagaraju.
Narasimha Dasu had a younger brother Krishnayya and a sister Rukmabai. His father was also a great devotee of Lord Rama. Naturally his home was suffused with an atmosphere of piety and devotion. For a long time his parents had no issue. By the grace of Mangalagiri Narasimha Swami this boy was born. Hence, he was named Narasimha Dasu. Eminent devotees and other elders, who frequently visited his house, used to bless this prodigy. He had mastered Sanskrit and Andhram languages, besides music and literature. As an extraordinarily precocious child, Narasimha Dasu began to recite poems and songs extempore and sing in a melodious tune enthralling his listeners. He had a superb sense of rhythm (Laya), and he also played on the 'Kanjira' (a small one-sided round drum). He had widely read in theology and theosophy.
When he was just eight, Narasimha Dasu's literary and musical talents astounded the people. Endowed with a phenomenal memory power, he remembered most of what he read. His poetic genius manifested itself when he sang extempore at that tender age, a song on Bhadrachala Rama, "Namo Namo, Daasaradhe Namo Namo………" His language drew its basic nourishment from literature, and his literature used language as its vehicle blending devotion harmoniously.
At the age of 19 years, Narasimha Dasu's marriage to Lakshmibai was solemnized. With the death of his father Appayya Dikshit in the very next year, his struggle for mundane existence began. He got a job in the Revenue Department as Peshkar at Ponnur in the Guntur Division. As an idealist and a man of principles, and as a diligentworker, Narasimha Dasu acquitted himself creditably in his job. He endeared himself to the people by enquiring about their needs and well-being. During this period, he accepted "Pancha Samskara Deeksha" from a god-man (a divine being in human form) by name Damodaram Kesava Dasu, as a token of embracing Vishishtadwaita (a Vedantic doctrine of Ramanujacharya which treats Brahman and Prakriti as realities, and rejects the doctrine of illusion). Such people wear the mark of Wheel (Vishnu's Sudarshana Chakra) on the right shoulder and the Conch (Shankha) on the left shoulder; and two white vertical lines with a red streak in between on the forehead to indicate that they are the servants of Lord Vishnu.
As his devotion to Lord Srirama deepened, he found his job and its attendant responsibilities a big hindrance to his Vaishnavite ministry. Soon, he quit his job. This came as a bolt from the blue to his already poverty-stricken family. In one of his outpourings, he appealed to Lord Rama to listen to the hardships he suffered either financially or from money-lenders or godless and anti-Vaishnavite people. His mundane life was sad, broken and tragic whereas his spiritual life was blissful and filled with literary brilliance. His poverty, however, only seemed to enhance his devotion to Srirama which gladdened and inspired countless people around him.
Meticulously following the Vaishnavite tradition, and its rules and regulations, he qualified himself to be called 'Narasimha Dasu'—a servant of Lord Vishnu (Srirama). Strengthened by his utter devotion to the Lord, coupled with his unique trait of philosophical detachment, he weathered the hardships of penury. For him, Lord Srirama was the fountain of all that is virtuous, intelligent and joyous. He spurned the idea of approaching the wealthy people saying, "Should I beg of mean men for a morsel of food, should I bear the insults hurled at me when I am piously chanting your holy name, tell me O Rama!
**********************************************
All The compositions are in telugu
Click here to download the album
Sree Rama Gaana Lahari
Singars:Susheela And Others
Lyrics:Sai Krishna Yaachendra
Music:Pugazahendi
Sangeeta Records
01.Mahaneeyamainadi.mp3
02.Antadavulanundi.mp3
03.Neela meghasyamudu.mp3
04.Srirama chandrude matandri.mp3
05.Eepata vinumayya.mp3
06.Rama Rama antene.mp3
07.Yela dachagalano.mp3
08.Yenta nomu nochinamu.mp3
09.Sreeramuni vanti.mp3
10.Pavalimpa.mp3
http://www.4shared.com/dir/Ocd8DRH2/Sree_Rama_Gaana_Lahari_PSushhl.html
JAYA JAYA RAMA
http://www.4shared.com/dir/H3IAp0hd/jaya_jaya_rama.htm
l
songs:
002 SRI RAMA JAYA RAMA.mp3 20,867 KB
07 Jaya Jaya Rama - S P Balasubramanyam, Music_ K V Mahadeva.mp3 3,386 KB
11 Rama Krishna prabhu thu Jaya ram.mp3 4,456 KB
14. Jaya Rama Hare.mp3 2,799 KB
19 - Jaya Jaya Sri Ragu Rama.mp3 3,066 KB
Jaya Jaya Rama Janaki Rama.mp3 502 KB
Jaya Raam Rama Ramanam Samanam (Lata Mangeskar).mp3 3,966 KB
Jaya Raghu Nandana Jaya Jaya Rama.mp3 472 KB
Jaya Rama Hare (2).mp3 508 KB
Jaya Sita Rama.mp3 6,241 KB
Jaya_Sai_Rama_Jaya_Raghu_Ra.mp3 1,612 KB
Rama Rama Jaya Raghu Kula Tilaka.mp3 554 KB
Sri Rama Chandra Jaya Rama Chandra.mp3 570 KB
Sri_Rama_Chandra_Jaya_Rama.mp3 1,048 KB
The_Sound_of_Om-05_Om_Sri_Rama_Jaya_Rama__Jaya_Jay a_Rama.mp3 23,060 KB
-------------------------------------------------------------------------------
ramadas- sp balu
http://www.4shared.com/dir/aLIviNwX/ramadas-_sp_balu.html
songs:
diname sudinamu.mp3 4,603 KB
emi ra rama.mp3 3,938 KB
garuda gamana.mp3 4,823 KB
ninnu ponichedena.mp3 4,278 KB
paahimam sri rama ante.mp3 3,970 KB
rakshinchu deenuni rama rama.mp3 3,372 KB
rama nee che emi kadura.mp3 4,179 KB
ramuni baanamu.mp3 3,848 KB
sita rama swamy ne chesina neramemi.mp3 2,980 KB
sri rama nee namamemi ruchira.mp3 3,517 KB
Seetha Rama Kalyanam Devotional songs
Cast : Harinath, Gitanjali, NT Rama Rao ,
Kanta Rao, Chittor V. Nagaiah, Mikkilineni,
Chaya Devi, Gummadi, Shobhanbabu,
A.V Subba Rao and others
Direction : Rama Rao Taraka Nandamuri
Producer : Trivikrama Rao Nandamuri
Music : Narasimha Rao Galipenchala
Year : 1961
.: Download from Mediafire and Megaupload :.
Sri Seetharamula Kalyanam : MU | MF
Chutamurarandi
Inupa Kattadal : MU | MF
Jagadeka Maatha : MU | MF
Janakundu : MU | MF
Jaya Govinda : MU | MF
Kanarara Kailavasa : MU | MF
Nelatha Ituvanthi : MU | MF
O Sukumara : MU | MF
Palupagu Suthudu : MU | MF
Parama Sivachara : MU | MF
Sasala Javarala : MU | MF
Veena Padava : MU | MF
Veyi Kannulu : MU | MF
http://www.mediafire.com/?2rzt1ntrjki
or
http://www.megaupload.com/?d=U5BFKFH6
or
http://www.ziddu.com/download/9133201/Sitarama-Kalyanam1961.zip.html
or
http://rapidshare.com/files/367453305/Sitarama-Kalyanam1961.zip
Password if needed:
www.getindianstuff.com (or) www.firetamil.com (or) www.kwdownloads.com
Seetha Rama Kalyanam 1961
Cast : Harinath, Gitanjali, NT Rama Rao ,
Kanta Rao, Chittor V. Nagaiah, Mikkilineni,
Chaya Devi, Gummadi, Shobhanbabu,
A.V Subba Rao and others
Direction : Rama Rao Taraka Nandamuri
Producer : Trivikrama Rao Nandamuri
Music : Narasimha Rao Galipenchala
Year : 1961
Sitarama kalyanam Pooja Material
..:: Songs List ::..
Note:- MU = Megaupload
:- MF = Mediafire
01 - Sri Seetharamula Kalyanam
Chutamurarandi (

Hit Track

)
MU
MF
02 - Inupa Kattadal
MU
MF
03 - Jagadeka Maatha
MU
MF
04 - Janakundu
MU
MF
05 - Jaya Govinda
MU
MF
06 - Kanarara Kailavasa
MU
MF
07 - Nelatha Ituvanthi
MU
MF
08 - O Sukumara
MU
MF
09 - Palupagu Suthudu
MU
MF
10 - Parama Sivachara
MU
MF
11 - Sasala Javarala
MU
MF
12 - Veena Padava
MU
MF
13 - Veyi Kannulu
MU
MF
All Songs In One Single File:
Download Links:
Megaupload ( or ) Mediafire ( or ) Ziddu ( or ) Rapidshare
http://www.mediafire.com/?1yrw33xbn8gmj
yemayyarama.mp3
4.04 MB
VALMIKIPALUKERAMAMRAMAM(SRIRAMASONG).mp3
4.12 MB
BHALEVADIVISRIRAMA.mp3
3.21 MB
DEVUDAVOSRIRAMUDAVO.mp3
4.08 MB
CHARITAMRAGHUNADHSYA.mp3
1.9 MB
DEVUDAVUSRIRAMUDAVU.mp3
3.55 MB
IDIGOBHADRADRIGOUTAMIADIGOCHUDANDI.mp3
3.65 MB
IDISEETAMMATALLIARESUKUNNA.mp3
2.19 MB
JAGADABHIRAMADAYACHUDAVE.mp3
3.54 MB
JanakijaneRamarama(Yesudas).mp3
4.29 MB
KODAPYKOLUVYNAKODANDARAMA.mp3
3.95 MB
KONDAPYKOLUVYNAKODANDARAMA.mp3
3.96 MB
MELUKOSRIRAMA(BALAMURALI).mp3
2.9 MB
nanubrovamanicheppaveseetammatalli.mp3
2.64 MB
NYAYADHARMAPALAKA(SRIRAMASONG).mp3
3.97 MB
NYAYADHARMAPALAKA(SRIRAMASONG).wav
43.81 MB
OM_MAHAPRANA_DEEPAM(RAMADASU).MP3
4.57 MB
palukebangaramayena.mp3
3.07 MB
PIBARERAMARASAM.mp3
2.84 MB
RAMA..ANDARIBANDHUVAYABHADRACHALARAMAYYA.mp3
2.26 MB
RAMACHANDRAYAJANAKA.mp3
751.35 KB
RAMACHANDRUDIATADURAGHUVIRUDU(P.SUSHEELA).mp3
1.52 MB
RAMANNARAMUDUKODANDARAMUDU(OLDBHAKTISONG).mp3
3.81 MB
RAMACHANDRUDITADU(P.SUSHEELA).mp3
3.46 MB
RAMARAKSHA.mp3
9.73 MB
RAMUNIKALAYANAM.mp3
3.52 MB
seetaramulakalyanamchutamrarandi.mp3
5.16 MB
SHYAMALAMKOMALAM(SRIRAMA).mp3
5.02 MB
SHYAMALAMKOMALAMRAMASUNDARAM.mp3
5.02 MB
sri_anjaneyam7.mp3
2.87 MB
SRIANJANEYAM.mp3
4.71 MB
SRIKARAMOUSRIRAMANAMAM.mp3
2.88 MB
SRIMANTHA_HANUMANTHA.MP3
5.98 MB
SRIRAGHURAMJAYARAGHURAM-09(INSTRUMENTAL) .mp3
2.17 MB
Sriramadootam.mp3
5.19 MB
SriRamarakshaStotram(SPBalu).mp3
16.43 MB
SRISITARAMUNIKALYANMUCHUTAMURAARANDI(INSTRUMENTAL).mp3
5.28 MB
sriutamousriramapadam.mp3
1.94 MB
sudha-bhajaremanasa.mp3
8.64 MB
TARAKAMANTRAMENIGANAMU.mp3
4.85 MB
TARAKAMNTRAMSRIRAMANAAMAM.mp3
2.88 MB
ATULITABALADHAMAM(S.P.BALU).mp3
1016.28 KB
Rama Sri Raama - Dhanama Daivama
http://www.youtube.com/watch?v=SfjQ7zto6CI
Dr. M. Balamuralikrishna, P Susheela - Rama Dasharatha Nandana Rama
Here is an a rare Devotional album on Rama rendered by the popular playback singer P Susheela with the master of Carnatic Music Dr. M. Balamuralikrishna. In fact, I collected these songs from the net, without any specific album name. But the songs are beautifully rendered by both together.
Rama Dasharatha Nandana Rama
Track List
Dasharatha Nandana
Pahi Maam Hare
Rama Kodandarama
Rama Pahi
Ramuni maravakave
Sri Samaya
http://www.mediafire.com/?gyzmz1ueg2d
Pibare Ramarasam - Dr. M Balamuralikrishna
Album: Pibare Ramarasam
Rachana: Sadasiva Bramhendra Swami
Kalakarudlu: Dr. M Balamurali Krishna (Ganam), Balasai (Flute), Raghavendra (Violin), Srinivas (Mridangam), Y.Subrahmanyam (Tabala)
Patala Mannika: 320kbps
Patala Vivaralu:
1. Pibare Ramarasam
Ragam: Ahir Bhairavi, Thalam: Adi
2. Khelathi Mama Hrudaye
Ragam: Kapi, Thalam: Adi
3. Bhajare
Ragam: Prathimadyamathi, Thalam: Adi
4. Thuga Tharange
Ragam: Suruthi, Thalam: Adi
5. Tatwat Jeevathvam
Ragam: Kedaram, Thalam: Adi
6. Manasa Sancharare
Ragam: Charukesi, Thalam: Adi
7. Gayathi Vanamali
Ragam: Hamsadhwani, Thalam: Adi
8. Chetah Sriramam
Ragam: Sindhu Bhairavi, Thalam: Adi
download link:(320kbps)
http://www.mediafire.com/?vnh02vc7qtb7e
or
http://www.mediafire.com/?sharekey=91795b0152301bc391b20cc0d07ba4d2c73b149c4c475c0e
Pibare Ramarasam-Dr.M.BalamuraliKrishna
Bhajare.mp3
Chetah Sreeramam.mp3
Gayathi Vanamali.mp3
Khelati Mama Hridaye.mp3
Manasa Sancharare.mp3
Tatvat Jeevatvam.mp3
Tunga Tharange.mp3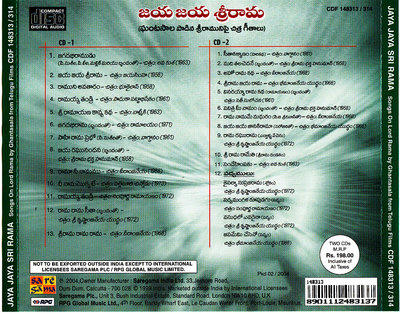 Jaya Jaya Srirama_Ghantasala Devotional
download from mediafire:
http://www.mediafire.com/?9exog44gsa0yc
http://www.4shared.com/folder/0ffCTroA/Sri_Rama_Ganamrutham.html
Sree Rama Ganamrutam
Singers:Bala Subrhamanyam and Suseela
Music: Pugazhendi
details of songs:
Meluko sreerama.mp3
Naa dehame.mp3
Bhale vaadivi.mp3
Rayinina kakapothini.mp3
Jayajaya rama.mp3
Ramachandrudu.mp3
Rama dayapara.mp3
Yemayya o ramayya.mp3
Saranu vededa.mp3
Ramudu lokabi.mp3
download from mediafire:
http://www.mediafire.com/?1hlpn65tsj6sw
http://www.4shared.com/folder/zU3I4ndC/Jaya_Jaya_Sri_Rama__Vol-1_and_.html
http://www.mediafire.com/?3q6cf40lx3flc
Jaya Jaya Sri Rama Vol-1
Jagadabhi Ramudu
04:08
Jaya Jaya Srirama
03:38
Ramuni Avataram
06:41
Raamaya Thandri
02:59
Sri Ramaayana Kaavya Katha
13:26
Jagadabhi Rama
03:38
Pahi Rama Prabho
03:29
Jai Raghunandana
03:19
Rama Nee Naamamu
03:15
Nee Namamokkate
03:26
Ramayya Thandri
03:29
Rama Rama Seetha
05:21
Sri Rama Rama Rama
03:26
Jaya Jaya Sri Rama Vol. 2
Seetha Kalyanam
06:52
Madhi Thalachedane
03:25
Aho Rama Katha
03:33
Sri Rama Jaya Rama
03:10
Vinarayya Rama Katha
08:50
Pavithra Meenamam
03:24
Rama Naamame
02:40
Jaya Jaya Janaki Rama
03:34
Rama Raghurama
04:44
Sri Rama Ramethi
06:35
Sandhehimpaku Mamma
02:49
Padhyams
04:59
Srimadramayanam - Manaveeya Sambhandhalu-Sri Chaganti Koteswara rao

On December 8th Sri Chaganti Koteswara rao garu gave this discourse at Visakhapatnam. Topic is Ramayanam and the human relaionship. This is a wonderful description related to how and what a word can do in human life.